As when we published our previous news, Brexit is still highly uncertain in its outcome. Nevertheless, the future of British citizens has been clarified.
On October 17 2019, Brussels and London negotiated a new agreement. However, British MPs rejected the approval timetable which planned an accelerates examination of the deal by the British Parliament and the outcome of Brexit seems deferred again.
However, in order to anticipate a potential "no deal", the French Government is offering new visibility to British citizens and their family (spouse, children and ascendants).
More specifically, the French Ministry of the Interior issued a press release on October 9th, 2019 announcing the creation of a platform enabling British Citizens and their family already residing in France upon Brexit to apply for a Residence Permit.
In terms of timelines:
British citizens' right to residency will be maintained for one year following the date of Brexit.
In case of a no deal Brexit on October 31st (although current talks tend towards a further report), these maintained rights will start on November 1st 2019 and end on October 31st 2020. Beyond that date, a Resident Permit will be mandatory for British citizens over 18 (and between 16 and 18 to have the right to work in France).
British citizens will be granted a 6-month period starting on the actual date of Brexit (until April 30th 2020 as of today) to register online.
If a British citizen already holds a Resident Permit in France (including the "carte de resident permanent"), it will need to be exchanged for a new one within one year, starting on Brexit's actual date.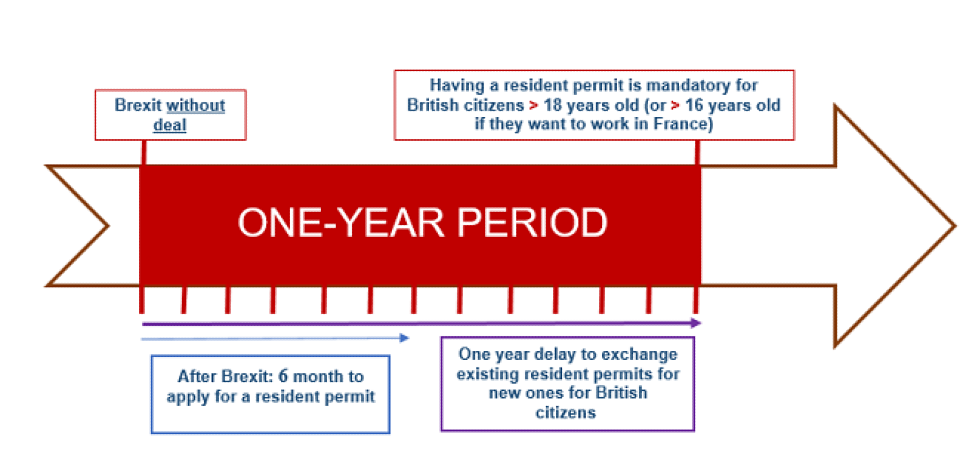 In terms of online process:
Fill-out the required information : length of previous stay in France, type of status in France
Upload the required documents applicable to this status
Once the online registration is complete, the applicant will receive an electronic file registration confirmation with a specific ID number
The file will then be instructed by the local Prefecture and once the instruction is over, the applicant will be notified for an in-person meeting to provide an ID photo, fingerprints, and pay a tax (the amount is unknown at this stage)
The permit is then sent for manufacturing, and the applicant will receive it directly by regular mail
Beware : this online procedure has been created to anticipate a potential no deal. In case there is a deal, a different process may apply.
Therefore, even in case of a no deal Brexit, procedures seems quite simple.
Uncertainties however remain regarding the timeline under which the Prefectures will notify in-person meetings.
Political impetus and administrative instructions given to the local Administrations by the Government will help our Immigration Department help you throughout this process!

Sources :